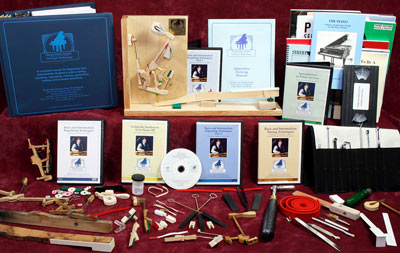 School Notebook with:
Complete Written Course
Examination Questions
Eleven Additional Textbooks, written by Registered Piano Technicians Willard Leverett, Arthur Reblitz, Phil Gurlik, Ken Burton, Larry Fine and Randy Potter, including:


"G" Piano Works Repair Labor Guide
The Mentoring Book: How To Be A Mentor - How To Be An Apprentice
Different Strokes - Hammer Techniques for Piano Tuners
The Business of Piano Tuning
The Apprentice Training Manual
Plus six more auxiliary books.

Technical Manuals & Brochures:
Baldwin Piano Parts Catalog/Price List
Baldwin Pianos Brochure Baldwin
Technical Service Manual
Boston Pianos Brochure
Kawai Pianos Brochure
Kimball Technical Service Manuals
Samick Pianos Brochure
Samick Technical Service Manuals
Steinway Pianos Brochure
Steinway Specifications Booklet
Supplier Catalogs and Brochures
Wurlitzer Technical Service Manual
Yamaha Specifications Chart
Young Chang Pianos Brochure
Young Chang Service Guide
Additional brochures and manuals, as available. These auxiliary textbooks, technical manuals, piano brochures and video tapes (above, right), are integrated into the course material, to make it even more complete.
Note: Because of our committment to upgrade the course materials as appropriate, and because many of these items are supplied by piano manufacturers or industry suppliers, specifications are subject to change at any time, and without notice. The Randy Potter School assumes no liability with respect to inability to procure particular parts and supplies. Substitutions will be provided, when available.